"EXOPLANET OBSERVING FOR AMATEURS: SECOND EDITION"
This book was originally for sale exclusively by Adirondack Astronomy, but since they are now "out of business" the unsold books were sent to Starizona for sale by them. A free download of the book's PDF-document file is available (see below).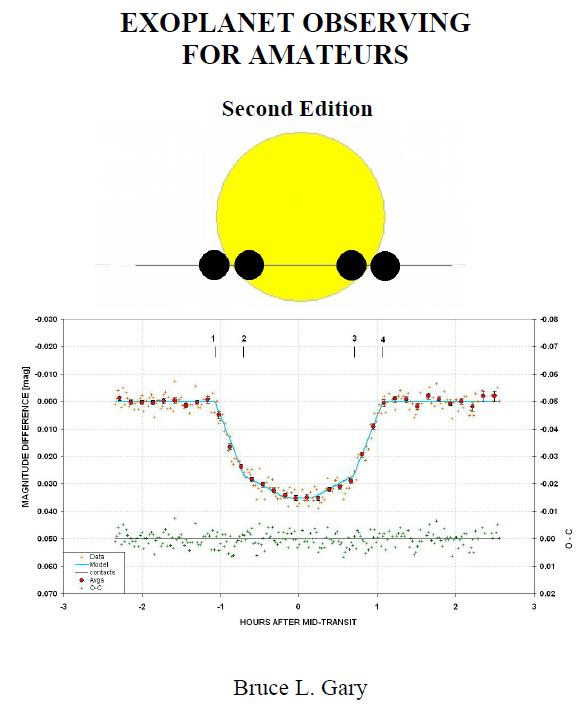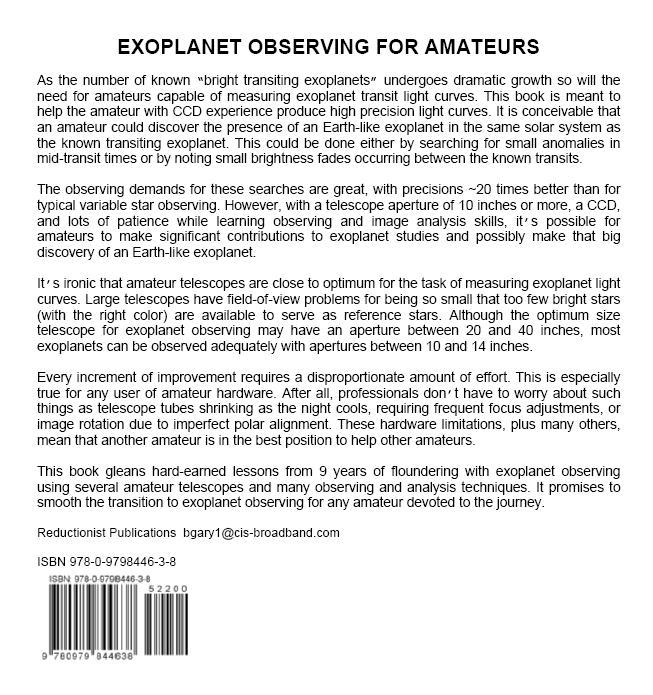 This
Second Edition
has a larger page format (to accomodate pictures and graphs that tend to be wider than they are tall), is 70% longer (253 pages), has more easily understood explanations for more material, includes an expanded glossary (9 pages) and index (10 pages), has more appendices (10), and all pictures and graphs are in color (no center insert of color versions of pictures and graphs, as in the
First Edition
). If you are considering buying the book you should first download a free PDF-document file and review it to see if it's worth the price of a "hard copy."
1) Free download of book's PDF-document (zip-file):
EOA2
(If you have trouble downloading this zip-file you may e-mail me & I'll attach the file to an e-mail reply; see my e-mail address on the back cover, above.)
2) Ordering a "hard copy" is still possible; it is sold by Starizona at:
link
Some of the spreadsheets described in the book are availalbe for free download here:
http://brucegary.net/book_EOA/xls.htm
Related links:
Amateur Exoplanet Archive
(AXA) a place listing bright transiting exoplanets with their basic information
xls
spreadsheets referenced in the book are available for free download here
Resume
Unsolicited compliments:


"I want to personally thank you for probably saving me at least a hundred hours of frustration! I've used your LCx_ spreadsheet to analyze my data and I'm quite proud of my first attempt!" IC

"Your book looks good, and definitely fills an important role." GL


"Thank you for these web pages and your book about exoplanets : it is great what you have done. I began to read it and I love it." JFC


"
- awesome book! Nice stuff!"
PS
______________________________________________________