This web page lists books for sale written by Bruce L. Gary and published by Reductionist Publications, d/b/a. The following is a complete list of books by this author (details below):

ESSAYS FROM ANOTHER PARADIGM

GENETIC ENSLAVEMENT: A CALL TO ARMS FOR INDIVIDUAL LIBERATION

THE MAKING OF A MISANTHROPE, BOOK 1: AN AUTOBIOGRAPHY

MISANTHROPE'S HOLIDAY: VIGNETTES AND STORIES

QUOTES FOR MISANTHROPES: MOCKING HOMO HYPOCRITUS

EXOPLANET OBSERVING FOR AMATEURS

THE MAKING OF A MISANTHROPE, BOOK 2: MIDNIGHT THOUGHTS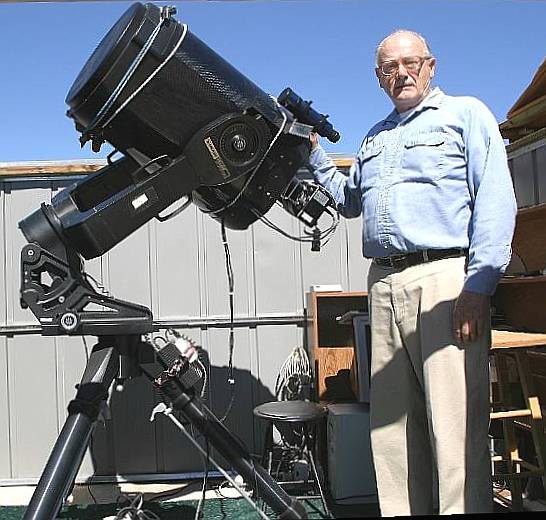 Author, with his favorite telescope, used in co-discovery of exoplanet XO-1b.
ESSAYS FROM ANOTHER PARADIGM
1992, 1993 (out of print)
492 pages, 25 illustrations
Vignettes, stories, essays & aphorisms without regard for "political correctness." This book served as a resource for future books with narrower focus.

GENETIC ENSLAVEMENT: A CALL TO ARMS FOR INDIVIDUAL LIBERATION, Fourth Edition
First Edition (2004), Second Edition (2006), Third Edition (2008), Fourth Edition (2011)
401 pages, 20 illustrations, $30 (Fourth Edition, available May, 2011)
Sociobiology meets philosophy, and some of the results are shocking! This book is not for the "faint of heart." I argue that Reductionism is one of Mankind's greatest intellectual achievements. In addition to reductionism being the underlying principle for all of science, it also requires that life is an evolved phenomenon, free will is an illusion and consciousness is an epiphenomenon - in other words, all living things are "automatons." The sociobiology paradigm guides speculation on the role of the genes in shaping human nature. If our thinking is brave we arrive at the conclusion that some genes make fools of humans by eliciting behaviors that help the genes achieve longevity while compromising individual welfare (sex, parenting, warfare, etc). This leads to the thought that we humans are enslaved by the genes that assembled us, and this wisdom should translate to a desire for liberation from genetic enslavement. However, achieving liberation from the genes, which amounts to answering Nietzsche's call for creating new values to live by, is not feasible because our brains were created by those very same genes. The genes that assemble us are the ones that thrived in evolutionary competition with each other, and this is a competition in which the winners are the ones that were the best at enslaving their creation for safeguarding their "aspirations" for immortality without regard for our individual welfare. We are therefore relegated to a spectator's impotent role of amused enlightenment about our enslaved condition.

THE MAKING OF A MISANTHROPE, BOOK 1: AN AUTOBIOGRAPHY
2005, not for sale (but copies available if a case can be made)
579 pages, 220 illustrations
"Life's a funny proposition, indeed!" I am grateful that mine has been interesting, with lot's of "front row seat" experiences. As I near my end I notice a pattern in which my misanthropic nature has become clearer. I must be one of the happiest misanthropes on the planet, yet I still cannot forgive most humans for their grievous shortcomings in relation to what might be possible for some future human nature. Yes, it is presumptous for us misanthropes to claim that we should be "listened to" as we argue that humans should take control of "domesticating" our wretched nature, but even non-misanthropes will agree with our goals. This book is an autobiographical journey illustrating forces that can shape a misanthrope.

MISANTHROPE'S HOLIDAY: VIGNETTES AND STORIES
Now available for purchase, $15
220 pages, 37 illustrations
This book records a life transition from being a cold-hearted misanthrope to a warm-hearted one. Vignettes, stories and essays from a 12-year "holiday" are collected in a show of brave confrontation with an early belief that character is the unfolding of inner-strength to a belief that parental nurturing and an awe for existence are additional components. This book was originally written for my daughters, but it is generic enough that anyone should be able to recognize the agony and exhilaration of changing to someone closer to who we were "meant to be." The vignettes, stories and essays were selected from my first book, Essays From Another paradigm (described above), and arranged chronologically to show how these 12 crucial years were like a holiday that produced a transition to the real me, a happy misanthrope enthralled by existence and wishing for a similar life fulfillment for everyone.

QUOTES FOR MISANTHROPES: MOCKING HOMO HYPOCRITUS: Second Edition
Now available for purchase, $15
110 pages, no illustrations
Everyone has their favorite quotes, and most quote books are so inclusive that no one's taste is fully satisfied. This book is a collection of quotes that should please freethinkers as well as misanthropes. Since many of them mock "human hypocrisy," and since "human hypocrisy" appears to be a human universal shared by all cultures, I have coined the term "homo hypocritus" as a new name for our species. A second section is included for pithy unquotes by the author.

EXOPLANET OBSERVING FOR AMATEURS: Third Edition
Out of print.
253 pages, ~ 60 color illustrations
One of my post-retirement hobbies is amateur astronomy. I've been lucky to be associated with a professional/amateur project designed for the discovery of exoplanets. To date we have discovered five exoplanets orbiting other stars. This book grew out of the project leader's suggestion that I create tutorials for the other amateur observers. I hope it can serve to inspire a wider audience of amateurs to observe distant planets orbiting in front of their parent stars with 2% brightness fades lasting a few hours. There is a unique opportunity for amateurs to actually discover additional exoplanets on their own, without help from professionals, and this book urges advanced amateurs to give it a try. The tutorials are suitable for college-level laboratory course work. (Originally accepted for publication by Springer, but withdrawn by the author over concerns for delayed publication and excessive price.)

MIDNIGHT THOUGHTS: Fourth Edition
Available mid-2010
This book is only half-written and the plan is to publish in 2008, if I live that long. It will consist of "midnight scribblings" that can serve as seeds for thoughts that must grow in the dark, away from public scrutiny, until the new ideas are strong enough to withstand the wrath of those who resent Truth-telling. What a humble endeavor!